Current Exhibits view all
August 11 - September 14, 2017
Crow Town Gallery
"Wheelock, Hilten, Beard, and Denbo"
Lubec, Maine more info »
Crow Town Gallery
"Van Buren, Wheelock, and Hilten"
Lubec, Maine more info »
Mulholland Market Gallery at Lubec Landmarks
"Coastal Frontiers"
Lubec, Maine more info »
Upcoming Exhibits view all
Please check back for upcoming exhibits.
Upcoming Events and News
Wheelock Receives Maine Arts Commission 2017 Belvedere Fellowship
Shanna Wheelock received the Maine Arts Commission Artist Fellowship/2017 Belvedere Handcraft Award, one of seven individual artist fellowships awarded this year. This merit-based award is primarily informed by an applicant's body of work and serves to acknowledges artistic excellence and advance the careers of Maine artists.
Artist Residency in Croatia
February 2017, American International School of Zagreb
Shanna kicked off 2017 with an artist residency at the American International School of Zagreb where she taught ceramics to students in grades Pk-12 during their Arts festival. Students who hailed from coutnries all over the globe tried their hands at the potter's wheel,  learned handbuilding, and etched using sgraffito techniques.
Crow Town Gallery
Summer 2017, Lubec, Maine
The 2017 opening show at Crow Town Gallery will feature the work of guest artist Richard Van Buren who will show alongside resident artists Shanna Wheelock and Kathrin Hilten. The show will run June 29-July 16 with an opening reception at 7:00 p.m. on Thursday, July 6th.
Awards for the International Bay of Fundy Marathon
Lubec, Maine U.S. / Campobello Island, Canada
Shanna has created awards for the Bay of Fundy International Marathon for five years running! The 2017 award theme  is the starfish. Past award themes include the Herring, North Atlantic Right Whale, Harbor Seal, and the Sea Scallop.Check out her work at the marathon EXPO or at the Street Fair during the event!

Read an article about the 2013 awards in the Bangor Daily News by clicking here.
Cobscook Pottery Downtown!
Through November 2016, 37 Water Street, Lubec, ME
Cobscook Pottery will re-open May 2017 at the downtown location, 37 Water Street, Lubec.
Online Pottery Sales
Just a note to let you all know that I will be updating the shop section of this site soon. It's been a hectic summer and a challenge to keep on top of the editing. As always, if you have been to my shop, just give me a shout about any item that you have seen in-person that may not be listed here.
My email is shanna@shannawheelock.com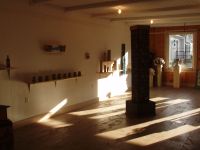 Thu, Jun 28th, 2012
View images of Wheelock's Lubec Landmarks installation "Razed", a seven foot ceramic sculpture commemorating Lubec's lost factory industry.

To deny beauty in the midst of loss would be to deny nature its gifts and lessons.
~ Shanna Wheelock