Current Exhibits view all
There are no current exhibits.
Upcoming Exhibits view all
Please check back for upcoming exhibits.
Upcoming Events and News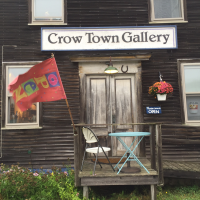 Covid-19 Announcement
Due to Covid-19 Pandemic, Crow Town Gallery is temporarily closed to visitors. Shop the Collector's Series to see items currently availble to ship. While the gallery is closed, I am offering free doorstep delivery to the Lubec/Trescott area,  or if you prefer, gallery curbside pickup. Appropriate precautions will be taken for public safety. For those who are local and would like to use the delivery or pickup option, please email me before purchase. I will provide a secure payment link that excludes the shipping fee.  Check and cash options are available as well for pickup and delivery orders. If you have been to the gallery, you know that there are many more items on-site than listed online. Get in touch with me about what you are looking for and I will send photos of what is in stock. 
Artist Residency: Beijing
March 2020
In a strange twist of world events, my residency at International School of Beijing/Red Gate Residency was canceled due to Covid-19. Maybe another time!
North Sea Gas: Live concert
June 7, 2020, Crow Town Gallery
CANCELED Due to Covid-19.
June 7, 2020 at Crow Town Gallery, 7pm
Cobscook Bay Music presents NORTH SEA GAS, a celtic group from Scotland. For more info, visit cobscookbaymusic.com
Awards for the International Bay of Fundy Marathon
June 2020, Lubec, Maine U.S. / Campobello Island, Canada
Due to Covid-19, the 2020 International Bay of Fundy Marathon has been canceled.  We'll see you next year!!!

Shanna has created awards for the Bay of Fundy International Marathon for eight years running! The 2020 award theme is the sea urchin. Past award themes include the Herring, North Atlantic Right Whale, Harbor Seal,  Sea Scallop, periwinkle, and the starfish Stay tuned to see what the 2021 theme will be!

Read an article about the 2013 awards in the Bangor Daily News by clicking here.
Crow Town Gallery
2020, Lubec, Maine
Shanna purchased long-established Crow Town Gallery in Lubec where she had been a resident artist. Former owners Bonnie and Ukey laid the foundation with emphasis on community which Shanna wishes to continue. The 2018/19 seasons included live concerts produced by Cobscook Bay Music, a raku-firing event open to the public, and a holiday artisan market featuring local talent. There are lots of great things in the works for 2020!
Wheelock Receives Maine Arts Commission 2017 Belvedere Fellowship
Shanna Wheelock received the Maine Arts Commission Artist Fellowship/2017 Belvedere Handcraft Award, one of seven individual artist fellowships awarded this year. This merit-based award is primarily informed by an applicant's body of work and serves to acknowledges artistic excellence and advance the careers of Maine artists.
Artist Residency in Croatia
February 2017, American International School of Zagreb
Shanna kicked off 2017 with an artist residency at the American International School of Zagreb where she taught ceramics to students in grades Pk-12 during their Arts festival. Students who hailed from coutnries all over the globe tried their hands at the potter's wheel,  learned handbuilding, and etched using sgraffito techniques.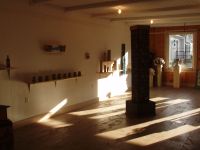 Thu, Jun 28th, 2012
View images of Wheelock's Lubec Landmarks installation "Razed", a seven foot ceramic sculpture commemorating Lubec's lost factory industry.

To deny beauty in the midst of loss would be to deny nature its gifts and lessons.
~ Shanna Wheelock