Current Exhibits view all
There are no current exhibits.
Upcoming Exhibits view all
Please check back for upcoming exhibits.
Upcoming Events and News
Awards for the International Bay of Fundy Marathon
June 2016, Lubec, Maine U.S. / Campobello Island, Canada
Shanna has created awards for the Bay of Fundy International Marathon for four years running! The 2016 award theme was the Harbor Seal. Past award themes include the Herring, North Atlantic Right Whale, and the Sea Scallop.Check out her work at the marathon EXPO or at the Street Fair during the event!

Read an article about the 2013 awards in the Bangor Daily News by clicking here.
Online Pottery Sales
Just a note to let you all know that I will be updating the shop section of this site soon. It's been a hectic summer and a challenge to keep on top of the editing. As always, if you have been to my shop, just give me a shout about any item that you have seen in-person that may not be listed here.
My email is shanna@shannawheelock.com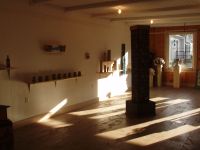 Thu, Jun 28th, 2012
View images of Wheelock's Lubec Landmarks installation "Razed", a seven foot ceramic sculpture commemorating Lubec's lost factory industry.

It is important that we keep compassion at the forefront of decisions.
~ Shanna Wheelock